How To Avoid Procrastination and Stay Ahead of Your Work
March 06, 2022
Paris Polatidis '23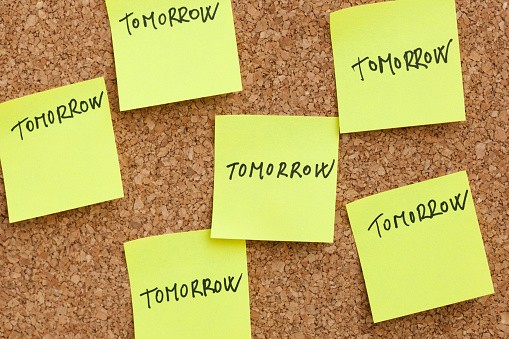 We've all had that guilty feeling when we put off work for too long. Whether it's Youtube, a sport's game, or speaking with friends, homework can often be thrust to the side. Procrastination can be a silent killer: it increases stress, wastes time, and lowers grades. Fighting procrastination takes an immense amount of effort and hard work. However, the tips outlined below should help jumpstart your journey towards productivity.
The biggest step to defeating procrastination is to simply be productive for five minutes. It is much easier to motivate yourself to complete an intimidating task when you only have to convince yourself to work for five minutes. By forcing yourself to work for five minutes, you will have gotten over the most difficult part of completing a task: getting started. Once you get started on a task and work on it for a short period of time, odds are that you will continue working on the task until you have completed it.
It is also incredibly important to break down work into manageable chunks. If you have multiple assignments to do, complete one at a time and only focus on one particular task at a time. Furthermore, if you are studying for a large test, try to avoid getting overwhelmed. Fully focus on one small part of the test and temporarily ignore other portions of the test. Eventually you will feel prepared for the entire test. The worst way to tackle a heavy workload is to stress over all the different assignments you have to complete. Focus on one assignment and block everything else out.

Lastly, it can be helpful to set up a system of rewards for studying or completing homework. Having a reward or a goal will help stimulate excellent study habits. A possible reward could even be something as simple as a chocolate bar or an hour of free time. Whatever reward you decide to pick, it will likely motivate you to complete your work in a timely manner so that you can enjoy your leisure time. It is important to note that your reward should not cause you to rush through assignments and hand in poor quality work. All completed assignments should still be completed with maximum effort.
Staying productive and on top of work can be hard and even stressful. Countless amounts of tests, quizzes, and homework assignments can be overwhelming and may lead to procrastination. Try to fight symptoms of procrastination with the tips outlined above. Remember that it is important to find a healthy balance between school work and healthy leisure time. Hopefully this article will allow you to remain productive throughout the day.
Paris William Polatidis is a junior at Xavier High School in NYC. He enjoys playing tennis, writing for the Xavier Review, and helping others out when they need support.