How To Crush The SHSAT
May 06, 2022
Paris William Polatidis '23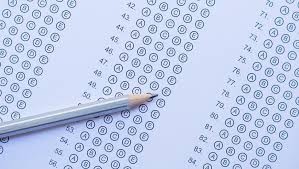 The SHSAT is a grueling three hour exam out of 800 points that tests students grammar, reading comprehension, and math skills. The eight specialized high schools (besides LaGuardia high school), only look at student's SHSAT scores and do not factor in grades or extracurriculars. Therefore, if you want to attend a specialized high school, you must excel on this exam.
Many students often feel lost and quickly become frustrated when studying for this exam due to its difficulty. However, this does not need to be the case! Hard work and meaningful studying will allow you to feel confident and calm on test day. So, instead of playing video games or procrastinating, open up a prep book and start your SHSAT test prep journey!
People often wonder how long they need to study in order to get into one of these exclusive high schools. The short answer to that is it depends. Many students will not have to study as long to grasp the advanced concepts on the test due to a strong background in schooling. Additionally, some students may want to attend Brooklyn Latin School or Brooklyn Technical School. These two schools are excellent in academics, but they often do not require as high of a score for admissions. On the contrary, Stuyvesant high school and Staten Island Technical school will require much more studying as they require higher scores for admission. I would say that the safest bet is to start studying the summer before the SHSAT right after school lets out. This will ensure that you have at least 4-5 months of study time.
Many people believe that a tutor or prep class is needed to exceed on this exam. However, that is far from the truth. Test prep companies and tutor's can be helpful for many students who need additional help; however, I firmly believe that almost anyone can find success on this test with enough practice and dedication.
The next big question is how should you study for the test? I believe that everyone should initially start off by taking a practice test. Practice tests can be found online or in SHSAT workbooks which you can purchase on Amazon or possibly even in a local bookstore. This test will give you a baseline on how far you are from approximately getting into one of your dream schools.
Now, do not be like most students! Thoroughly go over all of your wrong answers from the practice test! For every wrong answer you get, write the question down in a notebook and write down what the correct answer is, why the correct answer is correct, and why you got the question wrong. While this may appear to be tedious, this method will astronomically improve your score over time. You should also keep note of what types of questions you got wrong. For example, if you figure out that you don't really understand how to use commas, it is important to learn how to use them with a prep book, online SHSAT lesson, or even a tutor.
You should aim to take a test either every week or every other week. This repetition will allow you to learn more from your mistakes, get used to the types of questions the SHSAT asks, and improve your time management which is a key skill. Between practice tests you should be reviewing your mistakes and drilling lessons and practice problems based on what you struggled with on the test.
If you constantly struggle to finish the test on time, then it is important to also emphasize how to solve problems and answer reading questions efficiently. If you don't know how to answer a question, skip it and come back to it later when you are done with the test. This will ensure that you go through every question that you know how to answer.
The last crucial rule comes with bubbling in answers. Always make sure to at least guess on every answer. Even if you have no idea what the answer is, you still have at least a 25% chance of getting the correct answer. However, your odds are likely much higher than that even if you feel completely lost with the question as you often can eliminate certain silly answer options. Lastly, I would recommend to bubble in your answers after every question you answer. Do not bubble everything in at the end because you may run out of time!
I understand that the high school admissions process is stressful, particularly with specialized high schools. I remember the stress I felt when it came to taking the SHSAT. However, do not be afraid! I believe that if you follow the tips I have explained above to the best of your ability you will find success in the fall. Just remember that it is not the end of the world if you don't get into your dream school. Just go into the test knowing that you gave it your all.
Paris William Polatidis is a Junior at Xavier High School in NYC. He enjoys playing tennis, writing for the Xavier Review, and helping others out when they need support.