How to Start off the Year on the Right Foot
October 15, 2022
Paris William Polatidis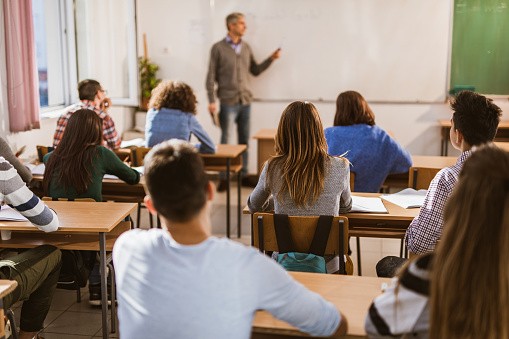 Whether you're just starting middle school or are entering eighth grade, it is crucial to make sure that you continue to work hard and keep your grades up. Obtaining high grades in middle school is very important for the high school admissions process. Top high schools will especially prioritize your grades in seventh grade when making admissions decisions so it is incredibly important to try your best if you are entering seventh grade this year. Additionally, by making an effort to understand your academic material in middle school, you will be setting a strong academic foundation for high school.
One step to starting the year off strong is setting up a personal schedule every week. Time should be set aside for important events, studying, and relaxing every day. Creating a schedule and committing to it helps one budget their time and remain on task. Schedules create order in our often chaotic lives. Also, sometimes one can get overwhelmed when thinking about all of the work they have to complete and all of the extracurricular activities they have to attend. Writing everything that needs to be completed down can help alleviate stress and will allow you to complete what needs to get done in a timely manner.
Unfortunately, many students start off the year in a hole and find themselves trying to dig their way out. If you are ever confused in a class or are struggling to keep up with your work, make sure to immediately reach out to your teachers for help. All teachers want to see their students succeed and thrive in their classroom and are definitely willing to take the extra effort to help out a student who wants to do well. Don't begin the year with poor grades, avoid the unnecessary stress and try your absolute best to keep up your grades from the beginning. Don't suffer in silence, it's not worth it in the end.
Lastly, try to avoid letting distractions get in your way of academic success. In our modern world, the main distraction student's encounter is their phone. Many of us are often glued to our screens for an unhealthy amount of hours. Increased phone usage leads to procrastination. Oftentimes, when one continues to put off school work until the last minute the quality of the work isn't as good. If you are struggling with phone addiction it may help to give your phone to a parent for an hour or two so that you can focus on your school work without distractions. Furthermore, even if you have completed all of your homework, don't stay up late using your phone. Every night you should strive to get eight hours of sleep in order to ensure that you wake up the next day recharged and well rested.
If you commit yourself to these three main tips you should have a fruitful start and end to this school year. In the end, those who work hard and strive to do well are always rewarded. Creating a study schedule, reaching out for extra help, and limiting your screen time will set you on the right path for success this school year. No matter what grade you are in, now is not the time to slack off. Keep on working hard and try your absolute best to understand all of the content you are being taught.
Paris William Polatidis is a Senior at Xavier High School in NYC. He enjoys playing tennis, writing for the Xavier Review, and helping others out when they need support.