Online Learning: Advice from Mentee Accepted to Specialized High School
March 29, 2020
Michael N. Manta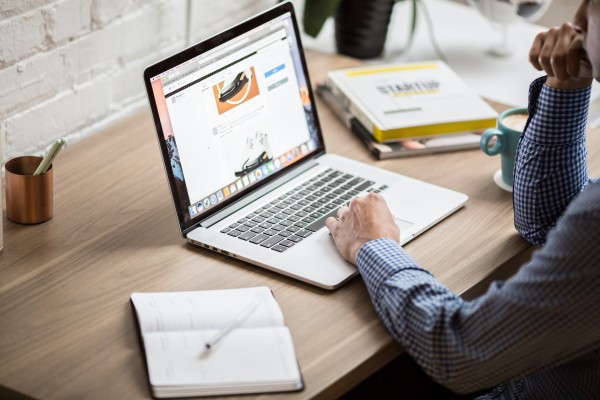 It's easy to get bogged down during this pandemic by the negative news that is surrounding us. Schools have closed in NYC, and cases are continuing to rise. After stocking up on essentials and quarantining themselves, the biggest question for many families right now is "how can I make sure my child does not fall behind in school?"
Though many schools have transitioned to online classes, there are still drawbacks to this new academic environment. The most significant of these is the decline in the rigor of the work being assigned. Due to the competitive nature of high school admissions in NYC, maintaining the same academic workload is essential in being prepared for high school application exams. One of the most notoriously difficult of these tests is the SHSAT or the Specialized High Schools Admissions Test. This is the test all eighth-graders must take in order to earn a seat at some of the most selective public schools in NYC.
Because this exam is so challenging, students need to have skills in mathematics and ELA at almost a ninth-grade level to succeed. Thus, it is understandable that many families are worried about their child keeping ahead of the curve for these tests. However, school is not the only way in which students can prepare for these admissions tests. In fact, some preparation can be done inside the comfort of your own home.
A tool that NYCMentors.org provides for free to keep our mentees ahead of the curve is IXL, an online test prep website that allows our mentors to track the progress of their students through the diagnostic IXL offers. In fact, the company has designed their tools to assess where students are based on the NY state test standard. Our students love to use it, which is demonstrated through the over 10,000 questions answered this past year. But don't just take my word for it, look at what one of our mentees has said about our service and using IXL.
At our launch event hosted by our partnering organization Chess in the Schools back in September, Jonathan Manta, co-founder of NYCMentors.org who is currently a freshman at the McCallie School, encouraged some middle school parents and students to sign up for mentorship.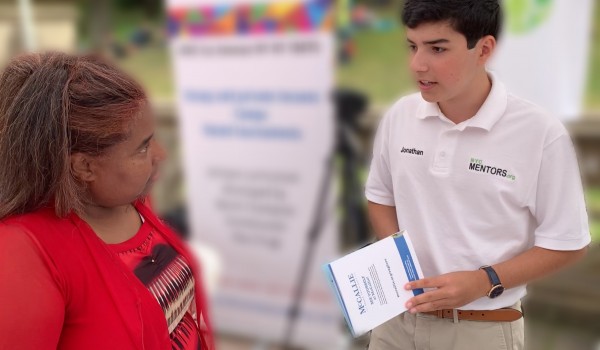 Above Jonathan Manta is speaking with the mother of Jeremiah Beckles about the opportunities with NYCMentors.org at our launch event.
One of these students was Jeremiah Beckles, currently one of our eighth-grade mentees, who has recently been accepted into Brooklyn Tech, one of the city's most selective specialized high schools. In an interview, I spoke with him about his feelings about being admitted. "It is very fulfilling to be admitted into Brooklyn Tech," said Beckles, "I am glad that I am able to go to a school close to me, which has a great education that focuses on STEM – especially in technology and mathematics." When asked whether IXL is a good tool in preparing for this process, Beckles replied with a succinct but firm answer, "Definitely."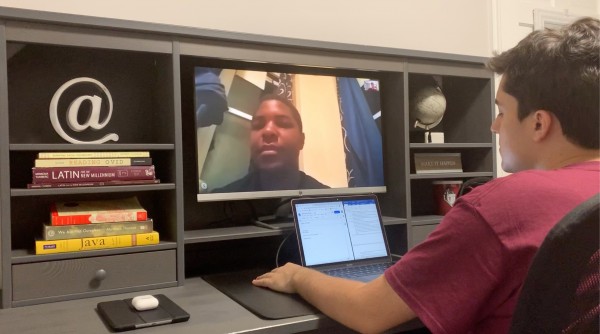 Above is a meeting I had with Jeremiah Beckles during our mentorship program, which are done via Skype
"Overall the most stressful part of the process was taking the exam because it is not the same as a practice test," described Beckles, "some important steps a family can take is to get ahead with practice and having a mentor who is available for their mentee to help them with academic and non-academic problems." He is looking forward to the academic rigor of Brooklyn Tech and believes that this challenging environment will help him grow as a student.
As for his feeling about the mentorship program, Beckles cheerfully replied: "The mentorship program was fantastic, I felt that I had a lot of support and help."
Michael N. Manta is a senior at Xavier High School in NYC and the Co-Founder & CEO of NYCMentors.org.
NYCMentors.org Inc. is a registered 501 (c)(3) nonprofit organization that connects underserved middle school students with older peers to guide, support, and mentor them and their parents with the NYC high school options and application process.