What to know about public school applications this year
January 11, 2021
Halina de Jong-Lambert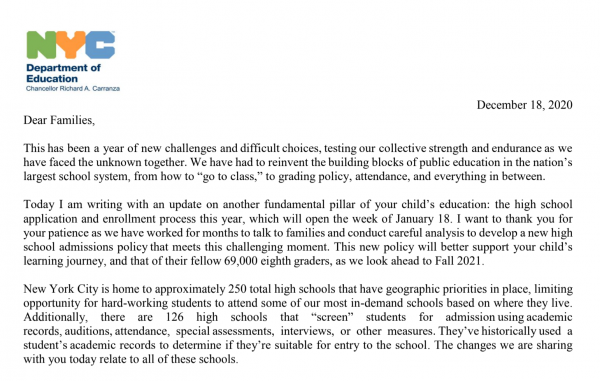 Chancellor Richard R. Carranza put out a letter on December 18th, 2020, outlining the changes that will be put into effect and continuities for the admissions process for New York City public high schools, that have been made largely due to the Covid-19 pandemic. Carranza is also focusing on lessening inequities that were thrown into light by the pandemic, specifically the worse impact that Covid-19 had on students of color and low-income students, as well as keeping the process as normal as it can be, keeping in mind social distancing guidelines.
Geographic and District Priorities Change
In favor of "a more equitable process for all families," the Chancellor stated that geographic admissions priorities will be done away with over the course of the next two years, priorities which in the past gave students living in the district of the school first pick at seats. The controversy surrounding geographic preferences centered on District 2 in Manhattan. Their district preference means that some of the best schools in the city, including Eleanor Roosevelt High School and Millennium High School, were very difficult for students outside of the district to get into (if not impossible for some schools). This limited diversity at these schools since the majority of the district is white and the overwhelming majority of seats were given to students in the district.
As of this year, district priority is set to be permanently removed, and other forms of geographic preference, such as borough, will be eliminated the next. This means that students who do not live in the district of a school have a chance to get into schools outside of their district if they rank high enough for screened schools or are chosen from a lottery for unscreened schools.
Update for Specialized Public High Schools and SHSAT
In the spirit of trying to maintain normalcy for the 2021 high school choice process, the Chancellor is maintaining that the SHSAT will be given out this year, but the location of the test will be at the middle school of the student, to reduce interaction of students and minimize travel.
How Will Screened Schools Make Decisions?
With the changes in middle school grading policy and the canceling of regents and state tests, a big question from families has been whether the screening process for screen schools will continue this year. The Chancellor has stated that the screening process will not be taken away from schools that use it, but he and the mayor are encouraging these schools to suspend their screening process this year. Carranza continued under the same topic: "Schools that maintain academic screens are encouraged to make a concerted effort towards greater equity in their processes, either by electing to remove additional screens now, or implementing a Diversity in Admissions priority." The introduction of this idea could mean we see some big changes in the screening processes of various schools over the coming years.
For schools that maintain their screening processes, Carranza mandated that their academic screening criteria must be made public on MySchools, with the criteria of screening remaining up to each school.

It is also important to note that public school applications will open the week of January 18 and that the registration deadline for the SHSAT will be January 15, 2021.

In light of these changes and this difficult year, the Chancellor makes a statement that speaks to the goal of these new policies: "These changes show that our values can become action, and that no policy, or way of doing things, is so entrenched that it cannot be revised in the name of serving all our children."
Halina de Jong-Lambert is a sophomore at Fiorello H. LaGuardia High School for Music, Art, and Performing Arts in New York City. She is an acting major at the school, enjoys Stephen King Novels, and is a fan of Oscar Wilde.