Making a Self-Tape the Right Way for Performing Arts High Schools
October 16, 2020
Halina de Jong-Lambert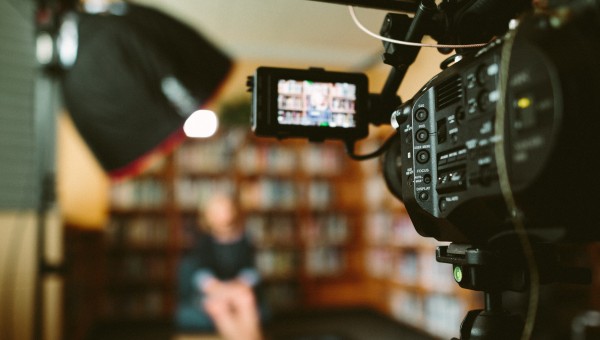 The idea of showing all of your talent and promise to a prospective performing arts high school through a recording is a nerve-wracking one. But due to the COVID-19 pandemic, this is what the reality may look like for this year's eighth-grade applicants. A self-taped audition does not have to be a scary thought; with the right environment and the advantage of being able to re-record to get the best performance or presentation, you can send in a tape that shows off the best of your ability.
Your environment is essential to a successful video recording. You want to record against a blank wall, any color, that will not distract from your audition (no glaring neon walls). For a song or monologue performance, you should be able to be seen from the knees up, with 2-5 inches of space above your head. For all sitting auditions such as presenting art pieces or playing an instrument, the entirety of the instrument or artwork should be in view. You should be seen at least from the torso up but again only 2-5 inches of space above your head. The performer should be dead center, not too far back that their face is not clear, but with enough space around the performer that the performer does not fill up the whole screen.
For a dance recording, you want to give yourself room, enough room that no part of you is ever off-camera, and the camera should stay in a fixed place the entirety of the recorded audition (no panning). Audio quality is also important because even if you aren't singing, you will have to talk at some point in your recording. The sound should be clear, and there cannot be background noise, so if your home is always loud, then reach out to someone with a quieter environment for space and time there to record.
This may seem extreme, but you should take every measure to ensure your sound is the best it can be, especially for a song. For an accompaniment track or music the performer is dancing to, the audio should not come from the computer but preferably another device, ideally speakers. A singer will want to take multiple recordings with different audio levels to hear which volume level leaves the singer's voice clear and audible and the accompaniment not too faint.
It is also crucial to stick to the guidelines given for the audition. Your monologues must be exactly what they ask for, your performance the exact length they ask, and so on. Especially in an admissions season with only (or mostly) virtual auditions, not following the directions for audition material is an easy way for schools to slim down the applicant pool.
Most importantly, keep a cool head. If you are getting stressed about your recordings, don't be. All you need to do is know your material and present it the best you can for your situation. Take breaks as you record, and don't wind yourself up because you want to present as calm and confident in your introduction. The people judging your audition want you to do well, just as they want you to do well when you perform live. Good luck!
Halina de Jong-Lambert is a sophomore at Fiorello H. LaGuardia High School for Music Art and Performing Arts in New York City. She is an acting major at the school, enjoys Stephen King Novels, and is a fan of Oscar Wilde.