NYC High School Preparation Guide for Sixth Grade 2021
March 04, 2021
NYC Mentors.org Staff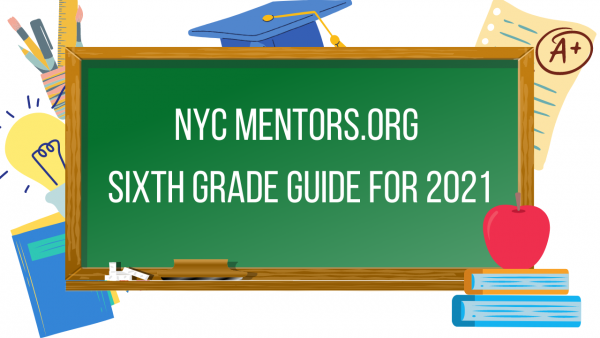 The transition from fifth grade to sixth grade is significant. For most students, this is the first time that they will be adjusting to a new school environment with new expectations regarding their work and learning. Though the start of middle school can be daunting for most families, this guide will show that there is nothing to be afraid of! By following these steps, families can make the most of the start to their child's middle school career and begin preparing for the high school admissions process.
Getting adjusted to middle school

The primary goal of the start of middle school should be to get adjusted to the new environment. For your child, this can mean making new friends, becoming more familiar with the teachers and the school, and staying organized as the school year progresses. One of the biggest differences between middle school and elementary school is the independence the child gains from not being in a single classroom the entire day. With this new freedom, your child will learn to take on more responsibility as they go through their school day and manage more homework.

As a parent or guardian, there are a couple of ways you can help make this transition easier. Joining the parent-teacher association or PTA is an easy way to learn more about the school and opportunities for your child. Checking in with your child at the end of every day and learning more about your child's classes and any problems they are facing is another way to ensure that your child is transitioning well.

Maintaining a good report card throughout the year

Unlike elementary school classes, students tend to find sixth-grade classes more difficult and more time-consuming. In the classroom, there are multiple ways in which your child can develop good study habits. Taking notes in class, particularly in a format that is thorough and easy to look back on, is the best way to make the most of each class and learn actively. This can involve labeling definitions, putting asterisks (*) near important information, and using headings to organize information. Keeping track of assignments is another burden that falls more heavily on students in middle school, so having a planner (or little notebook solely dedicated to assignments) where your child writes homework with due dates, study plans for upcoming tests or quizzes (reminding themselves to study at least a few days in advance) and plans for completing projects, can help keep you more organized.

As a parent or guardian, seeing how your child takes notes and offering feedback is a constructive way to make sure your child is learning to the best of their ability. Time management is a skill that your child will begin to develop starting in the sixth grade and will become increasingly important as they continue middle school and enter high school. For advice on time management, also check out our article here.

Joining extracurricular activities and beginning a portfolio

One of the main reasons most families find the NYC high school admissions process confusing and difficult is because they begin preparing last minute! Having a head start in middle school not only makes the process easier but can open your eyes to schools you would not have considered otherwise and potential scholarship and financial aid opportunities. The earlier you start, the better!

Once your child settles in, you should encourage them to participate in extracurricular activities and consider ways they can begin building a portfolio. Consider encouraging your child to join a few sports teams and clubs that the school offers that may pique their interest. The sixth grade is a great time to let your child find their talents and interests and develop them as they go through middle school. Unsure what clubs your child should join? Start with a math or science club, Model UN, or debate club if the school offers it. These clubs build life skills useful for any domain.

Your child's portfolio consists of their best work in the form of tests, projects, writing pieces, or artwork. This is a task that will span the course of your child's middle school years, so do not expect to have a complete portfolio by the end of the year. Nonetheless, it is imperative that you do not throw out old assignments or tests! It can be tempting for families to dispose of old work, but some high schools may ask for samples in your child's portfolio, so make sure you save your child's best work.

Beginning test prep for high school exams

For most families, the thought of beginning test preparation for high school exams in the sixth grade seems unnecessary. However, by starting early, your child gains a huge head start and will be better prepared for the difficult material on these exams. High school exams test at a ninth-grade level, so taking the time to learn harder concepts will be beneficial for the classroom as well as later success for the high school admissions exams.

We at NYC Mentors.org give all of our mentees a free IXL learning account to practice ELA and math. Our mentors use the continuous diagnostic that IXL offers to determine where our mentees lie based on the NY state standard so they can make recommendations and track their mentees' progress as they progress through middle school.

Figuring out some of the schools the student would like to go to
Much as high school test preparation is crucial during the sixth grade, so is creating a preliminary high school list. As your child goes through their first year of middle school, you should try to figure out what interests them and what activities they would like to continue in high school. Often families wait too late to make a high school list which causes unnecessary confusion and stress. By doing some research early, you can also plan ahead for the schools your child is considering. This will make the application process much easier and allow you to prepare more effectively for these schools. For more information on researching high schools check out this article.
With these tips, your child will be more equipped to make the most of their first year of middle school. In fact, these are guidelines our mentors use as they work with their sixth-grade students. Consider signing up for mentorship and taking a look at some of the other guides we feature on our website!
NYC Mentors.org Inc. is a registered 501 (c)(3) nonprofit organization that connects middle school students with older peers to guide, support, and mentor them and their families with the NYC high school application process.