NYC High School Preparation Guide for Eighth Grade 2021
March 15, 2021
NYC Mentors.org Staff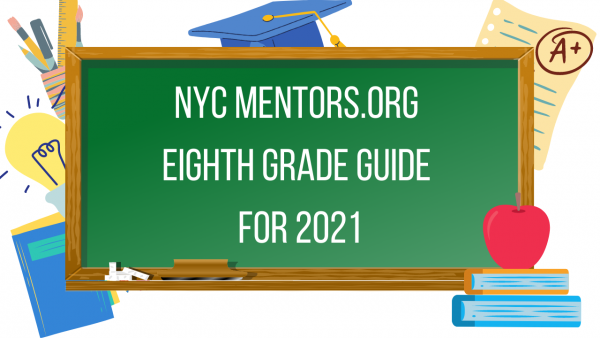 For most families, eighth grade tends to be the most exciting yet stressful year of middle school. It is the year to fully dive into the high school admissions process and find out where your child will be heading for the next four years. Though this can feel really overwhelming, with the help of this guide and the preparation made already from the sixth and seventh grades, there's no need to stress!

Maintaining a good report card before application deadline (and afterwards as well)

One of the most important aspects of a high school application is an applicant's grades, as they are a signal for high schools to determine whether a student will succeed at their school. Although it can be tempting for students to disregard the value of eighth-grade grades, they can be important for students who are considering non-public schools. Generally, non-public schools will request a full transcript of a student's grades from all three years of middle school, including the eighth grade. If a school sees a student performing worse during the eighth grade compared to the sixth and seventh grade, they may potentially interpret this as a lack of motivation for school work. Especially as your child will be applying to schools, time management will be key to maintain a good report card.

Maintaining a good report card during the first marking period is especially important because these grades give high schools the clearest image of what kind of student your child is, as these are the grades closest to their start of high school. Nonetheless, it is also critical that your child maintains a good report card in the other marking periods to not jeopardize an acceptance (for a non-public school) and to potentially take your child off a waitlist!

Creating a plan with deadlines for the schools the student is applying to

High schools set many starting dates and deadlines for applications. Getting familiar with all these dates before all the applications open is crucial. You don't want to realize the application to your child's application for their dream school is due in one week and that they haven't even started working on it! Using a calendar, you can mark down due dates and personal deadlines to make sure that everything high school application-related is on schedule. Personal deadlines set ahead of deadlines set by the school are even more useful because they can give you the security that the application is finished on time while leaving extra time to make minor changes. Also, for families considering arts schools, your child will most likely have to audition for their school, which you should also mark on your calendar. In addition to these deadlines for applications, your child will also be taking high school admissions tests, whether that means the SHSAT, ISEE, SSAT, TACHS, or HSPT (or any other school-specific admissions exams).

Having determined in seventh grade which tests your child will be taking, now is the time to register for the exam and for them to nail the final stretch of studying for it. Make sure you make a note of when these exams are on your calendar! Though foundations and an understanding of what's on the test should already have been built in seventh grade, it's essential to make sure your child tests to their full potential by being as prepared as possible. There are many books available for each type of test, which includes practice tests and tips, and similar free versions are available online as well. It's also worth considering tutoring or prep classes if your child needs some extra help.

When studying, it's helpful to determine a goal to aim for in terms of score. This can be determined for the SHSAT using NYC Mentors' SHSAT Score Calculator and 2020 Cutoff Scores resource. For other tests, searching online for how students who get admitted generally tend to can be helpful. The test-taking process can be a stressful one, so NYC Mentors' exam studying tips can be a big help here.

Most of the tests can only be taken once, so student stress on the test day can be high. But it's important to help your child remain calm and collected. Remember that your child is ready to do the best they can and treat it like any other test. As with any test, a good night's sleep and balanced breakfast the morning of the exam are ways to help your child get the most out of the day and put their best foot forward.

Using the finalized list of public high schools you prepared in seventh grade, determine a definitive ranking of the public high schools your child would like to attend, ordered from most to least preferred. In the end, you should have a numbered list from 1 to 12, at most. The more schools you are able to put on this list, the better the chances of getting into a school in the first round. Make sure to only list schools that your child would like to attend. If your child is taking the TACHS and SHSAT, they will also have to rank the Catholic schools and specialized public high schools they would like to attend in order, respectively, as well.

Writing high school essays and doing practice interviews

For most public high schools in NYC, the applications can be straightforward. Schools may use a lottery system to determine admissions or screen applicants by assigning each a score based on grades, state test scores, attendance (and auditions, etc.). However, for the majority of applications, students will have to write essays and possibly attend interviews. Essay writing takes time and will require multiple revisions, so it is beneficial that your child starts as soon as possible. Reading over your child's essay, asking a teacher to offer feedback, or having someone who barely knows your child read the essays over can help the writing process. For more information about writing admissions essays see our blog post here.

In addition to these essays, interviews are also an essential part of many private school (and some public school) applications, and taking the time to practice for these will help your child tremendously. During middle school, there are not many times when a child will be asked to sell themselves, so it is crucial to have your child practice doing an interview and asking them questions they may not know how to answer (for example, if you could meet any historical figure who would it be and why?). The goal of the interview is for your child to communicate that they want to go to that school and who they are. Practicing interviews can help your child fully articulate what they are thinking to not leave anything up for interpretation by the interviewer. Simply practicing a few times will give your child a leg up when the interview finally comes.

Finishing applications and polishing up portfolios

Once your child has gone through revisions for their essays and practiced interviews, you will almost be done! The final stretch, when all applications are due, is probably the most stressful period of the application process. However, this period can be made exponentially easier by properly planning. Using personal deadlines can help ensure that applications are completed on time and that all requirements are met.

Some schools may also request a portfolio sample, so collecting together any final stellar eighth-grade work on tests, essays, or art will help boost the portfolio your child has been developing over the years. Some art schools may expect a particular format for portfolios, so make sure you are checking the school's requirements. Often students perform their best in the eighth grade, so updating your child's portfolio may be beneficial!

Once all the applications are completed, you have been temporarily relieved of stress! Only, now comes the waiting. Waiting to hear back from schools can be nerve-wracking, but once you hear back from them, the exciting part comes: deciding where your child will be headed!

Your child has the possibility of hearing back from multiple schools ready to accept them, depending on how many types of applications your child completed. If this is the case, choosing a school is an exciting but often challenging decision to make. Make sure to make the same considerations as you did when narrowing down your high school list and making your rankings. Many schools offer in-school visits for accepted students in which your child can see what it is like to attend classes there. This is really helpful in getting a feel for each school, and in the end, the decision should reflect where your child is most excited to attend.

With these tips, your child will be more equipped to make the most of their final year of middle school. In fact, these are guidelines our mentors use as they work with their eighth-grade students. Consider signing up for mentorship and taking a look at some of the other guides we feature on our website!
NYC Mentors.org Inc. is a registered 501 (c)(3) nonprofit organization that connects middle school students with older peers to guide, support, and mentor them and their families with the NYC high school application process.